Take yourself on an exciting cooking adventure with Mythical Kitchen's delicious Chocolate Coffee French Dip Pork Sandwich recipe!
If you've been a good world citizen and stayed home the last few days/weeks, you're probably starting to get tired of your staple recipes. Get adventurous with your cooking skills and try a Chocolate Coffee French Dip Pork Sandwich recipe. Yes, you absolutely read that right. Chocolate AND coffee AND French dip AND pork… I mean, your mouth is watering, right?!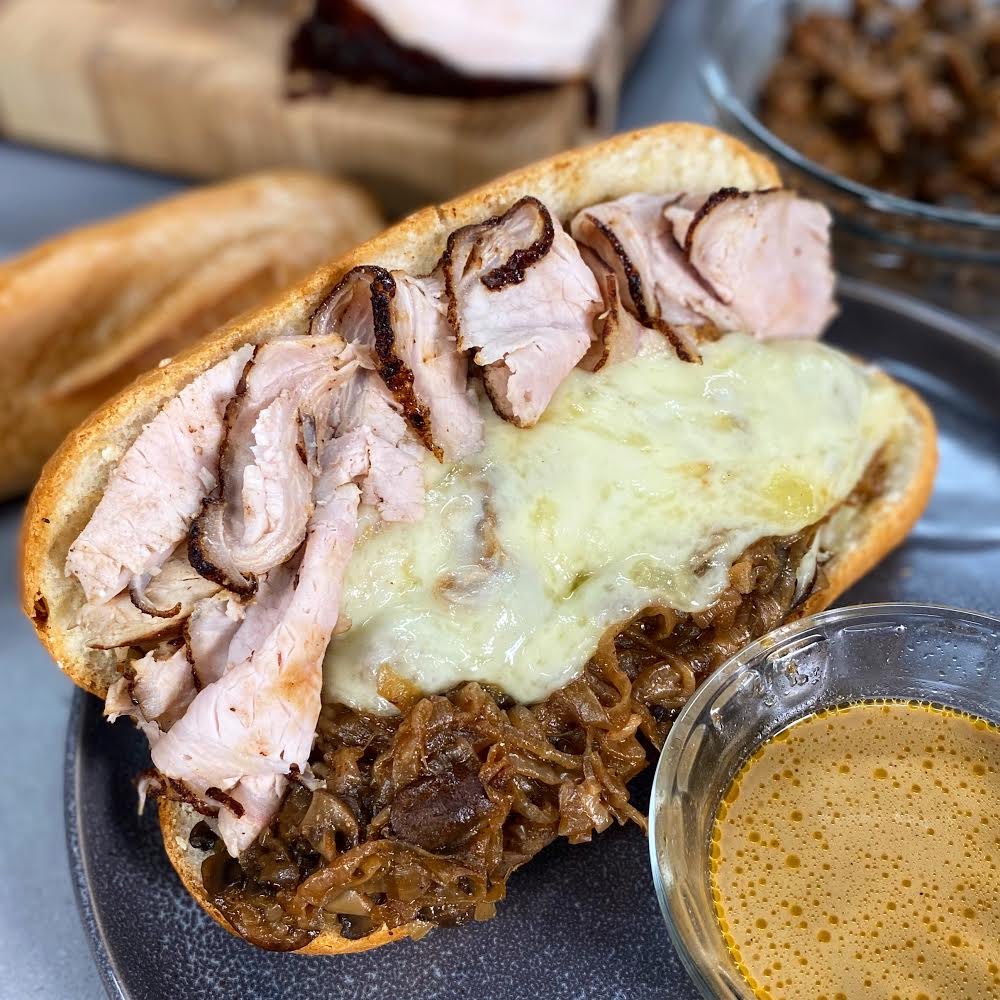 If you're at all familiar with Good Mythical Morning or Rhett and Link, you already know what to expect over on the Mythical Kitchen YouTube channel. Aside from some really great quarantine recipes, you can find videos on elevated fast food items, unique and adventurous meal attempts, and even more food related content. While not all of the adventurous food attempts are successful, the Chocolate Coffee French Dip Pork Sandwich is definitely a winner!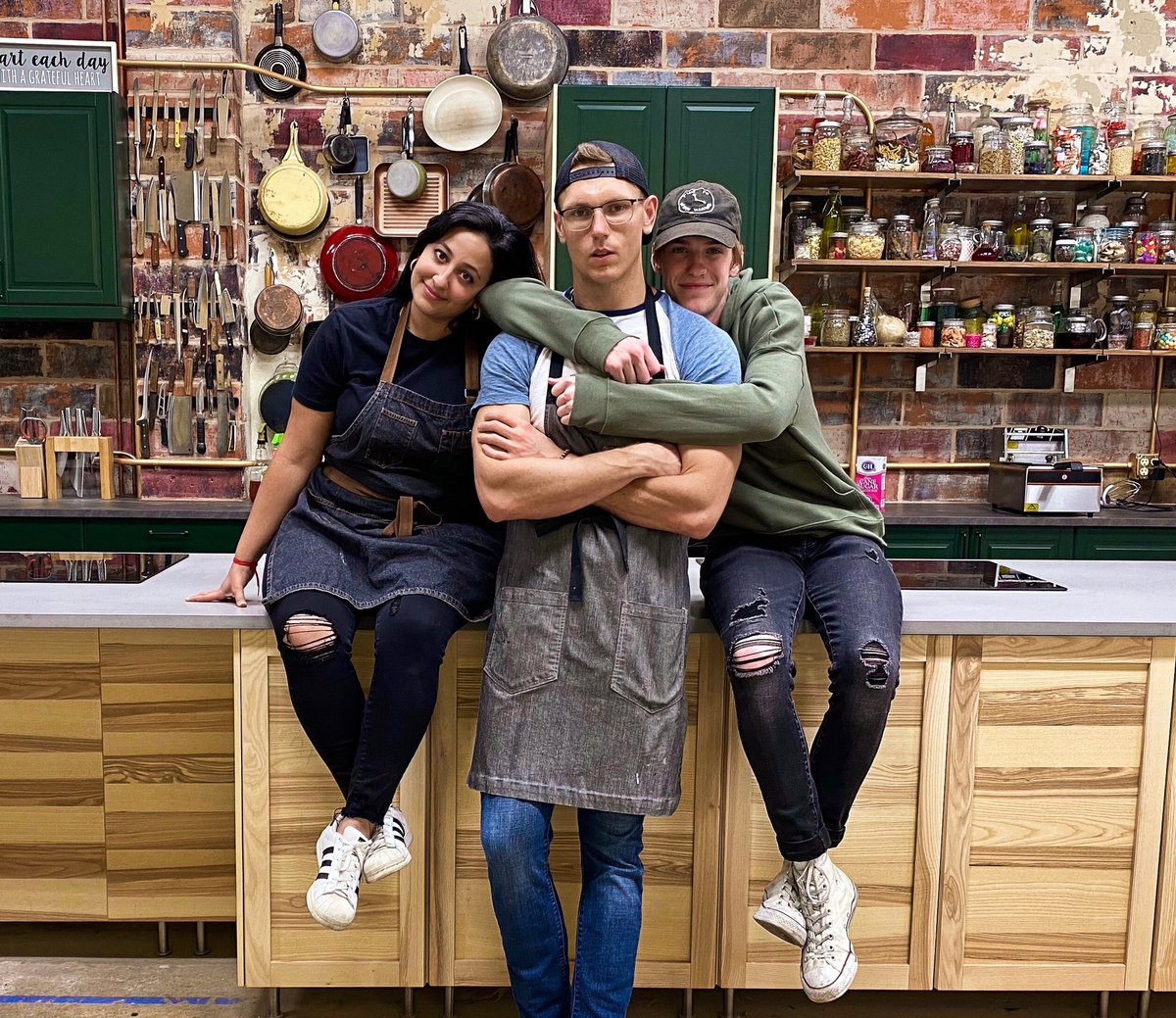 Before you check out the full recipe and list of ingredients below, make sure you watch Josh and the rest of the Mythical Kitchen team in action first. You'll see some helpful tips and have a lot of fun watching the sandwich come together. Plus, if you are a fan of Rhett and Link, watch for the guest test-tasters at the end of the video!
If you're ready to take this adventure, here's what you're going to need:
Equipment
Small mixing bowl
Tiny whisk
Cutting board
Chef's knife
Large cast iron pan
Meat thermometer
Small baking sheet
Tongs
Pork Loin:
3 lbs whole pork loin roast
1 tbsp salt
1 ½ Tbsp sugar
2 tsp chili powder
2 tsp cocoa powder
2 tsp instant espresso powder
1 tsp black pepper
2 carrots
1 onion
2 stalks celery
Caramelized Onions and Au Jus:
2 white onions
8 ounces cremini mushrooms
2 Tbsp butter
1 tsp + 2 tsp cocoa coffee rub
1 Roasting pan full of vegetables
3 cups pork stock
Additional Sandwich Items:
4 slices swiss cheese
2 French rolls
If you have everything you need, go ahead and get started!

Step 1: Roast the pork loin
Mix all the spices in a bowl then coat the pork loin in 3 Tbsp of the rub.
Rough dice your carrots, onions, and celery, then lay down as an even base on a cast iron pan. Place the pork loin on top of the bed of vegetables and roast at 400 degrees for 50 minutes, or until the internal temperature reads 125 degrees.
Remove and let rest for 15 minutes, checking the temperature again to ensure that the meat has reached 145 degrees.
Step 2: Make the caramelized onions and au jus
Heat butter on high in a large sautee pan until melted then add onions and mushrooms. Sautee for 5 minutes until slightly translucent, then add 1 tsp spice mixture and continue to sautee for 20 minutes, until dark and caramelized.
Heat the pan of vegetables on high then add your pork stock and additional 2 tsp of spice mixture and stir with a wooden spoon to get all the tasty bits off the bottom of the pan. Reduce for 5 minutes, remove from the heat, add half & half, then strain into a large mixing bowl and then add back into your pan. Keep the jus heating on low to finish the pork.
Step 3: Assemble the sandwich
Preheat your broiler on low setting
Use a sharp knife to slice your pork loin as thin as humanly possible.
Slice your french rolls in half then add two slices of swiss cheese to one of the layers of bread. Pop under the broiler for 1 minute to melt the cheese and toast the bread.
Add a shmear of caramelized onions to the other side of the roll then use tongs to dip the pork in the warm just and add it to your sandwich. Serve with a side of jus.