Rosie's shipping container house, nestled in the mountains of New Zealand, is my new dream home – take a tour!
I cannot begin to tell you how badly I want this shipping container house (nestled in the mountains of New Zealand). Having just returned from my own mountain getaway, I know how amazing it is to wake up in nature with an incredible view and not a single neighbor in sight. Aside from the gorgeous views, cozy corners, and vast kitchen; her "library" is remarkable. I couldn't be more jealous of this home and Rosie, the owner.
One of my favorite YouTube channels, Living Big in a Tiny House, visited Rosie and took in everything my her dream shipping container house had to offer. When I say it is my fairy tale come-to-life, I'm not kidding. I could see myself in every aspect of this home (although, I never saw the original Doctor Who, and quit after Matt Smith, so I'm probably not worthy of those collectibles and decorations).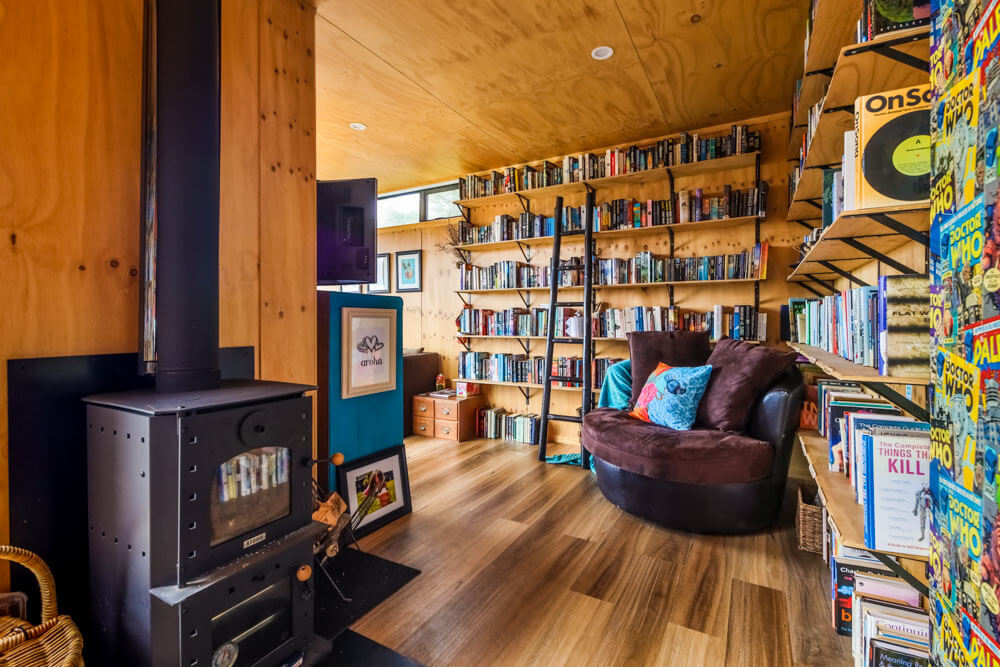 After selling her own home in Auckland, Rosie was able to purchase her mountain getaway , which one day she hopes to live in full-time. Find out more about her ideal shipping container house:
Meet Rosie, who has constructed an incredible off-the-grid home out of five 20ft shipping containers. Rosie's home is situated in the middle of a spectacular conservation block and her beautiful modern shipping container home has been wonderfully designed to take full advantage of the beautiful surrounding landscape. Best of all, this home is completely off the grid, with solar power, rainwater collection and even a vermi-composting toilet, meaning she will never need to see another power or water bill again.