Go back to the 1990s — or rather the 1950s?.. maybe the 1930s? — for an uplifting dance-fest, otherwise known as Janet Jackson's "Alright" music video.
The 90s was a great time for pop music and no one was hotter than Janet Jackson. From her breakout album Rhythm Nation to the single "Scream" (a collaboration with her brother Michael Jackson), Ms. Jackson (if you're nasty) was everywhere. One of my favorite hits from that time period is "Alright."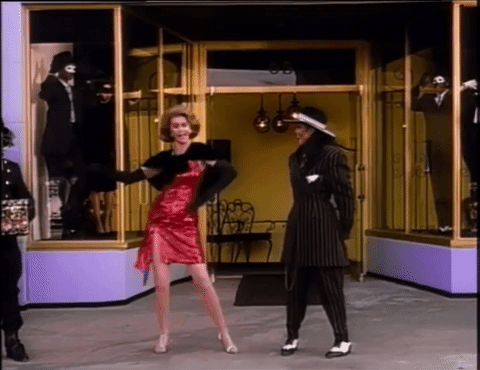 "Alright,"written by Janet Jackson, Jimmy Jam, and Terry Lewis, was released on March 4, 1990 and the music video followed a few months later. Choreographed by Anthony Thomas and Michael Kidd, the video was styled to look like a cross between the 1930s and 1950s. It features cameos from music and dance icons such as The Nicholas Brothers, Cab Calloway, and Cyd Cherisse.
"Alright" is a pure delight and will leave you tapping your toes and maybe even dancing along by the end of the video. If you love a good Janet Jackson dance break like I do, this video is FILLED with them!
Take a trip down memory lane to a land of zoot suits, big bands, and classic 1950s scenery in Janet Jackson's "Alright" music video. Watch the extended version featuring Heavy D below – this is one mini-musical event you don't want to miss!